A Few Moments With Sal Tee
THIS DISC JOCKEY LIVES AND BREATHES TO KEEP THAT DOO-WOP SOUND ALIVE
Orlando Sentinel Tribune
Florida Section, page 6
Sunday, July 29, 1990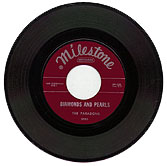 Sal Tee was smitten as a teen, and his high school sweetheart became his life's devotion. Devotion, actually, is too tame a word: Sal Tee, 44, is consumed by doo-wop music, by the oldies, which he found when both he and the music were adolescent.
The Five Satins, The Velvets, Lee Andrews, Tony Middleton and the Willows, Anthony and The Sophomores - these are the people in his life. He talks about them - their achievements, how they got together, how they chose the names of their groups - with tremendous seriousness. It puts you in mind of political junkies talking about the legislature, sports fanatics talking about the basketball draft, Southerners talking about unseen but often-discussed cousins.
In the kitchen of his Kissimmee home, his wife, Rose, nearby, Sal Tee pages through a 3-ring binder, reviewing the career of the Five Satins - they formed as the Scarlets, their song "All Mine" was recorded in August 1956 in a VFW hall in New Haven, it was 90 degrees, the band didn't show, the Scarlets did the song a cappella, if you listen you can hear an 18-wheeler roar by at the end of the song because the door to the hall was open.
Then Sal Tee comes to his notes about The Five Keys. By way of introduction, he says, "The Five Keys are my favorites. If I could have married the Five Keys instead of Rose, I would have."
"Thanks a lot," says Rose. But he doesn't smile, she doesn't seem surprised (she typed the information in the binder), and he doesn't flinch at her sarcasm.
"It's an obsession with me," he says later, "and a lot of other people" although it's hard to imagine anyone, anywhere who knows this much about the oldies. It kind of makes you fear for Sal Tee's safety. "I can tell you what color socks these guys wore to the studio," he says, smiling. Then, smile fading: "You want to know?"
SAL TEE is the dean of doo-wop. He works as a disc jockey and emcee for parties and weddings, and he presides each Sunday night from 6 to 11 over "Sal Tee's Solid Gold Reunion" on Orlando's WDBO-AM (580), a graduate level course in the group harmony sounds of the '50s and '60s. He's spent most of his professional life in radio, and the Sal Tee show is the fine distillation of his passion.
Sal Tee brings his own music -- a vintage oblong carrying case with a white handle, filled with 45s. "I'm the only DJ here who uses the turntables. . . .
"I play about 60 songs a week. Remember now, I give a lot of information the other guys don't. The groups I feature never got exposure . . . . What I'm trying to stress is that DJs at other oldies stations don't know the music, per se. Most of the stuff I give out is based on facts I got from the people themselves, in interviews. I'm more than just a time and temperature machine."
By way of comparison, he offers the recent performance of an oldies DJ on another station, billed as Mr. Trivia, who put the Skyliners and the DuPrees in Philadelphia. "I almost hit a tree!" he says. The Skyliners were from Pittsburgh, the DuPrees from Bayonne, N.J.
Doo-wop music is generally gentle, almost wistful. Sal Tee is a wire of intensity, a hopped-up blur of motion and talk, even when he's on the air. He's cueing music, pulling the headphones on and off, doling out doo-wop tidbits, taking calls, occasionally consulting the script he types out for each show, each song in order with some information about it. Most often he doesn't need it. And most often he doesn't listen to the music; too busy.
Tonight's first song is "Church Bells May Ring" by Tony Middleton and the Willows. Middleton was training to be a professional boxer when he got roped into singing. "And listen carefully to the guy playing the chimes on this song," Sal Tee urges. Turns out it's Neil Sedaka.
A regular calls to request "Blue Velvet" by the Moonglows. "She must have ESP, its on the turntable right now."
In the Sunday summer dusk, Sal Tee's burden of knowledge notwithstanding, the show spins out a day-dreamy mood, the music casts its spell, it connects. Its power survives.
TO HIS DISC JOCKEY GIGS, SAL Tee brings a binder cataloging, by year, much of the music he carries in his van.
From 1974: "Seasons in the Sun," by Terry Jacks. From 1970: "Give Me Just a Little More Time," by the Chairmen of the Board.
From 1967: "A Whiter Shade of Pale," by Procol Harum. From 1961: "I Fall to Pieces," by Patsy Cline.
Makes you wistful for the heyday of AM radio.
AT HOME IN KISSIMEE, SAL TEE'S 10,000 singles fit along a single wall in the office. They're in no particular order, Sal Tee knows his way through them - but there is a cross-index for the uninitiated.
Sal Tee can pull down a single worth $1,000 - "Stormy Weather," by the 5 Sharps. He's got a well-thumbed catalog showing a dealer willing to pay $1,000 for it. Does anybody play a single worth $1,000? "Not necessarily," says Sal Tee.
The only odd thing about the house is that it has no stereo system. The kids, Sal Jr. and Christine, have their own stereos and their own taste (New Kids on the Block). Rose knows doo-wop by osmosis. But to play a couple singles, Sal Tee has to bring turntable, mixing board and speaker in from the van in the garage.
Sal Tee loves the music, he says, but he rarely has time to just sit and savor it. He knows so much about it, he doesn't really need to listen. "Once in a great while I do, but not much anymore."
PHOTO IN ORIGINAL BY LORI WASELCHUK (not reproduced here)
caption: Sal Tee spins the oldies each week at WDBO-AM
Photo on this page made exclusively for the Radio Greats website
This article edited for Radio Greats.
---